Canon Compact Digital Cameras
Designed for photographic quality, convenience and confidence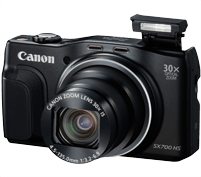 Canon Compact Digital Cameras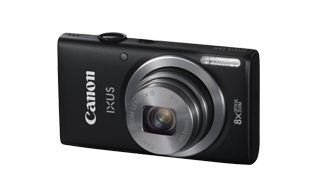 IXUS 135
Point & shoot
Canon's Ixus 135 gives you broad shooting options in a slim, stylish body, delivering detailed photos with a 16 MP sensor. A 28mm 8x zoom lens with 16x ZoomPlus gets you closer to the action. Smart Auto analyses scenes for optimised settings, and creative effects transform your images into works of art. Shoot 720p HD videos with a dedicated movie button, framing shots on the bright 2.7" LCD screen. Connect to wireless networks and compatible devices for rapid image sharing, synching with your smartphone's GPS to track shooting locations.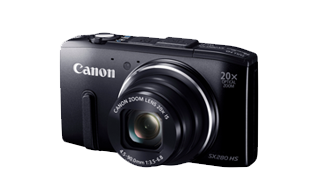 PowerShot SX280 HS
Advanced
With all the tools to capture and share your travels, the PowerShot SX280 HS incorporates a high sensitivity 12.1 Megapixel CMOS sensor, advanced DIGIC 6 processing and up to ISO 6400, plus a HS System for superb results in low light. Camera shake is reduced with Intelligent IS, while Enhanced Dynamic IS ensures beautifully smooth 1080p Full HD movie recording at 60fps. A 25mm lens with 20x zoom (including ZoomPlus) packs more sharp detail into each frame and gets you nearer your subjects.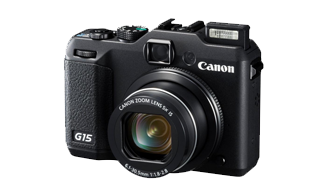 PowerShot G15
High zoom
With a HS 12.1 MP CMOS sensor and intelligent IS the PowerShot G15 has the tools to capture life's most memorable moments. A 28mm wide-angle lens and 5x optical zoom pack more detail into each frame and a dual axis electronic level 3" display allows you to snap images with a perfectly level horizon. Experiment with manual aperture, shutter speed and focus controls, or switch to Smart Auto for 58 optimised scenes. Shoot compelling Full HD movies using High-speed Burst or Super Slow Motion and complement your handiwork with Creative Filters.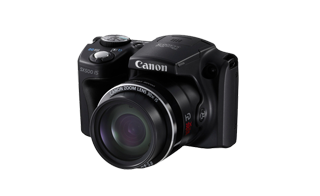 PowerShot SX500 IS
Bridge
With a 16 MP sensor, 24mm wide lens and 30x optical zoom, the PowerShot SX500 IS produces high-quality shots and movies. Intelligent IS maintains stability and sharpness as ZoomPlus gives you up to 60x zoom power, while Zoom Framing Assist tracks distant subjects. Face Detection picks out up to 35 faces in one frame for optimum brightness and focus. Grab videos or photos using the 32-variable Smart Auto feature; composing and reviewing with smooth navigation on a 3" LCD screen. Experiment with Creative Filters, Full Manual control and Macro mode.
Make your next step with Canon compact cameras
Canon's exciting range of compact digital cameras are packed with c advanced, easy-to-use features to help you take your next step in capturing priceless moments. Responsive image sensors deliver high-resolution photos and videos that will make everything you shoot look as stunning as it should. Intelligent image stabilisation, built-in GPS and WiFi and custom image modes combine for enhanced image quality, creative freedom and usability. Whether you want to get in close with 20x zoom, print wirelessly for added convenience or simply do your memories the justice they deserve, Canon digital compact cameras allow you to make pictures – not just take them.
Compare Canon Products
PowerShot A2600

IXUS
135

IXUS
510

PowerShot SX260 HS

PowerShot SX500 IS

PowerShot SX280 HS

PowerShot SX50 HS

PowerShot
G15

Megapixels - Sensor
16MP -1/2.3 type CCD
16MP - 1/2.3 type CCD
10.1MP - 1/2.3 type back-illuminated CMOS
12.1MP - 1/2.3 type back-illuminated CMOS
16MP - 1/2.3 type CCD
12.1MP - 1/2.3 type back-illuminated CMOS
12.1MP -1/2.3 type back-illuminated CMOS
12.1MP - 1/1.7 type Canon high-sensitivity CMOS
Processor
DIGIC 4
DIGIC 4
DIGIC 5 + HS System
DIGIC 5 + HS System
DIGIC 4
DIGIC 5 + HS System
DIGIC 5 + HS System
DIGIC 5 + HS System
Optical Zoom
5x (10x Zoomplus)
8x (16x Zoomplus)
12x (21x Zoomplus)
20x (39x Zoomplus)
30x (60x Zoomplus)
20x (39x Zoomplus)
50x (100x Zoomplus)
5x (10x Zoomplus)
Screen size & type
7.5cm LCD
6.8cm LCD
7.5cm Touch Screen LCD
7.5cm LCD
7.5cm LCD
7.5cm LCD
Vari-Angle 7.1cm LCD
7.5cm LCD
Smart Auto Scene
32
32
58
58
32
58
58
58
HD Video
HD (720p, 25fps)
HD (720p, 25fps)
Full HD (1080p, 24fps)
Full HD (1080p, 24fps)
HD (720p, 25fps)
Full HD (1080p, 24fps)
Full HD (1080p, 24fps)
Full HD (1080p, 24fps)
Manual Control
Yes
Yes
Yes
Yes
Yes
Wi-fi
Yes
Yes
Yes
GPS
GPS Via Mobile
Yes
Yes
Viewfinder
Yes
Yes