Laptops
Browse Laptops
Black tag Event now on - shop now
Laptops
Laptops are made for computing on the go. Perfect for everything from typing up documents to gaming and editing photos, there's a laptop to suit every need and budget.
Whether you already know what you're looking for or just want to learn about what features are right for you, explore our range to find a laptop with the perfect mixture of performance, price and design.
If you aren't sure where to start, we have some handy tips on what to look out for when choosing a new laptop. If you're still stuck, check out our buying guide for more help.
Also, look out for 'Our Experts Love'. These laptops have been chosen by our experts because they come with the most exciting new features, the latest technology and represent great value.
Reasons to buy a new Windows 10 Laptop
Which operating system is right for you?
The first thing to consider when looking for a computer is the operating system. While it might seem difficult, especially if you haven't upgraded for a while or aren't familiar with Windows, OS X or Chrome, each has a distinct layout and offers a different way to work and play.
Windows
If you've used a PC before, chances are it ran on Windows. Familiar, easy to navigate and used everywhere from family homes to space stations, Windows is a trusted and well-supported way to get exactly what you want from your computer.
Find out more about Windows 10
OS X
OS X is designed to tie all your Apple devices together. If you love your iPhone or iPad, OS X is the perfect choice to make sure all your devices work as one. It looks great too, and is exclusive to iMacs, MacBooks and Mac Minis.
Chrome OS
Chrome OS is stripped back and focused towards getting you to your online content as easily as possible. If you only want a computer for checking social media, browsing the web and chatting to friends, Chrome OS is a simple and affordable way to get online.
Need more information?
If you need more information on which operating system will work best for you, our buying guide goes into operating systems in much more depth.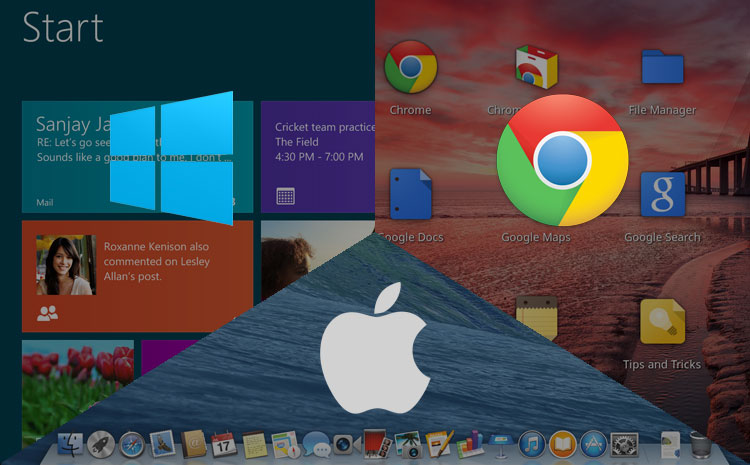 Things to consider when buying a laptop
Touchscreen

A touchscreen puts control of your digital world at your fingertips. Intuitive to use and already familiar if you own a smartphone, touchscreen will change the way you use your computer forever.

Windows 8 is optimised for touchscreen, so you can experience the benefits of improved navigation whatever you intend to use your laptop for.

Processor

The processor is the heart of your laptop. Lower powered computers feature processors optimised for battery life and efficiency, while performance focussed processors allow you to run specialised media editing, graphic design and music production software.

There are plenty of processors in between that offer quick processing and great battery life for effective everyday computing.

RAM

Random Access Memory (RAM) works with the processor to help with multitasking and run demanding software. The more you have, the more you can do at once without slowing down your laptop.

If you need to work on several programs at once, like to stream music and chat while you browse or use memory-heavy software, look for a laptop with a good RAM and processor combination.

Dedicated graphics

Dedicated graphics cards vastly improve the appearance and media quality of a laptop. It's worth considering a laptop with dedicated graphics if you expect to watch and stream a lot of video content.

Gaming laptops always feature high-end graphics cards that allow them to run the latest PC games at their best. If you're thinking of getting into PC gaming or want to play on the move, look for a gaming laptop with a graphics card to suit your preferred genre or game.

Storage

Laptops can feature either a hard disk drive (HDD), solid state drive (SDD) or a combination of both.

HDDs feature large storage capacities and are ideal for securely storing important files, software, media and more. SSDs are smaller and are capable of much faster data transfer speeds and are often included in highly portable or performance oriented PCs.

2 in 1

2 in 1s combine the portability and control of a tablet with the performance and usability of a laptop, so you can type documents and manage your daily life when you need to and enjoy touchscreen games and social media when you want to from one versatile device.
Shopping with PC World
Services brought to you by our experts