Tablets and eReaders
Browse Tablets and eReaders
Black tag Event now on - shop now
iPad, Tablets and eReaders
Tablets give you access to everything that's important to you and come in a wide range of screen sizes, specs and designs to suit every need and budget.
If you already know what you want or are just browsing, you can explore our range and compare your favourite models to find the features that you like.
Learn more about key features to look out for or check out our buying guide for more information on operating systems and spec. And if you're still stuck, why not call into one of our stores to see the different tablets in action and speak to one of our knowledgeable colleagues.
Which operating system is right for you?
The first thing to think about when choosing a tablet is the operating system, as this determines how your it works, the app store you get access to, and how the tablet works and communicates with other devices.
Android
Android offers a simple yet customisable way to personalise your table the way you want. From emails and social media to games and more, the Google Play Store has over a million apps to choose. From small-screen tablets perfect for browsing social media on the go to larger models ideal for streaming films and catch-up TV, there's an Android tablet to suit every need.
iOS
iOS is exclusive to Apple tablets and smartphones, and is designed to work flawlessly with Macbooks and iMacs. Simple, pretty and featuring direct access to Apple's App Store and iTunes, it gives you easy access to everything you want at the tap of the screen.
Windows
Windows tablets can be installed with all the software you use on your PC at home or at work, so you can work on projects, essays, emails and more between you tablet and computer with ease. You can even mirror your PC desktop on the tablet, so it's like working on one device.
Fire OS
If you love discovering new books, films, music, and more, Amazon Fire OS is a great choice. It puts the Kindle eBook store, film, music, and apps at your fingertips as soon as you turn on. Fire OS gives your whole family a simple way to find new content. Whether they're into gaming, reading, or exploring the latest apps, there's something for everyone. You can even manage your children's accounts to help keep them safe online, and to prevent them watching things they shouldn't be.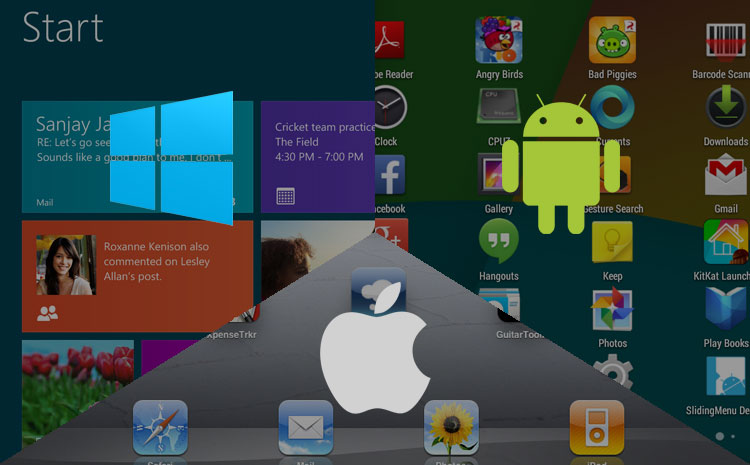 Things to consider when buying a tablet
Screen quality

Tablet screen quality is measured in pixels per inch (ppi), a measurement which takes different screen shapes and sizes into account.

A tablet with a higher ppi displays images with more detail, which is perfect for watching HD films, streaming TV and playing games.

Processor

Most tablets feature dual or quad core processing. The more cores a processor has, the more you can do at once, so if you plan to use your tablet for work, editing photos or anything more than everyday browsing, look for a tablet with decent processing performance.

Storage

The amount of memory a tablet has determines how many files, apps, songs, films and photos you can store.

If you plan on saving a lot of content, look for a tablet with a larger capacity or one with expandable storage via an SD card slot.

Connectivity

All tablets feature built-in WiFi for easy access to the internet, with many also featuring Bluetooth for wireless pairing with speakers, headphones and other devices.

If you want to use your tablet on the move look for 3G and 4G connectivity, which works the same way as your smartphone to get you online almost anywhere in the country.

Battery

Battery life is important if you regularly use you tablet on the go.

It's worth bearing in mind you may get a shorter battery life than stated if you regularly stream media, play games or browse with the brightness turned right up.

Accessories

From colourful cases and bags to mobile broadband, there are plenty of ways to personalise and enhance your tablet or eReader.

Most cases are made to fit specific devices, so you can be sure of a perfect fit. Look out for cases with keyboards to turn your tablet into a fully-functioning workstation on the go.
Things to consider when buying an eReader
Backlight

A backlit screen means there's nothing to stop you from reading in low-light conditions. The light level can be adjusted for comfort and to help you get the best out of your battery life.

Connectivity

eReaders connect to the book store via WiFi or 3G. Built-in 3G is a great feature if you don't have the internet at home or regularly use your eReader while out and about.

Storage

Storage capacity dictates the number of books you can store on the eReader. eBooks are small files, so you only need to consider a large memory capacity if you plan on storing hundreds of books at once.

Battery

eReaders have very long battery lives and can go for weeks, or even months, between charges. Battery life is usually based on half an hour of use per day, so if you're a keen reader, you may see less than the listed figures.
Shopping with PC World
Services brought to you by our experts