Multiroom Wireless Audio
Samsung's Multiroom Wireless Audio lets you play any music track you want, be it from your personal collection, from a streaming service, or from a phone, in any room you choose, all controlled from your Smartphone or Tablet. The Best Sounding Multiroom Audio System, as chosen by consumers*.

*Based on a survey of 100 consumers vs Bose, Sonos and Pure products.
Sensational sound and style with total control
Discover pure artistry inside and out with the new Wireless Audio Multiroom speaker range. Available in 2 sizes and 2 colour options the M7 and M5 speakers offer spectacularly, rich sound combined with stunning design. These fully featured speakers can be used individually  as a single speaker in one room or linked via the multi room hub to create a Multiroom experience in every room in your home. Take control of where you listen to your favourite music by using the simple but clever app on your smartphone whether from your personal collection or a streamed service like TuneIN Radio, Deezer or Napster the fine art of sound has finally come home. The Best Sounding Audio Multiroom System as voted by consumers*

*Based on a survey of 100 consumers v's 3 leading Multiroom Audio System competitor products

Control your music in different rooms with ONE simple app*
...from your Smartphone, Tablet or Laptop* (laptop app available August 2014). From this one app you can control music in one room or different rooms, choose the same song to play in all or different ones. Simply choose the a room and select the track you want to hear  from any number of different sources. Impress your friends by effortlessly sharing your favourite music at parties.

SET UP is as easy as 1,2,3...
Enjoying your favourite music throughout your home couldn't be easier with the simple 3 step set up process. There's no lengthy and complicated installation process – just plug in and Play! 
"You can keep adding new speakers and devices whenever and wherever you need them."
STEP 1
CONNECT THE HUB

Simply plug the Wireless Multiroom Hub into the mains and connect to your router via ethernet cable.

STEP 2
PLUG IN THE SPEAKER

Plug your Multiroom Speaker into the mains, the speaker will then automatically search and connect to the hub. Repeat this process for any further speakers.

STEP 3
INSTALL THE APP

Download and install the Samsung Multiroom App via any of the following QR code, NFC tag or from the APP store or Goggle play search. The app is available for Android 2.3 upwards and IOS 6 upwards compatible.

My music follows me
Sensational sound around your home Expand your system with Samsung's Multiroom wireless link. Love listening to your favourite music anywhere in the home. The Multiroom functionality is available on a vast array of Samsung products which can all be linked easily. The system is expandable, so you can grow it as fast as you want and listen to different tracks in different rooms, all at the same time. Simply add a compatible product in the rooms you want music. For the true Multiroom experience the Samsung Multiroom Hub is all you need to complete your system. Simple Multiroom Wireless Audio, controlled from your Smartphone, tablet* and laptop*. *App coming mid 2014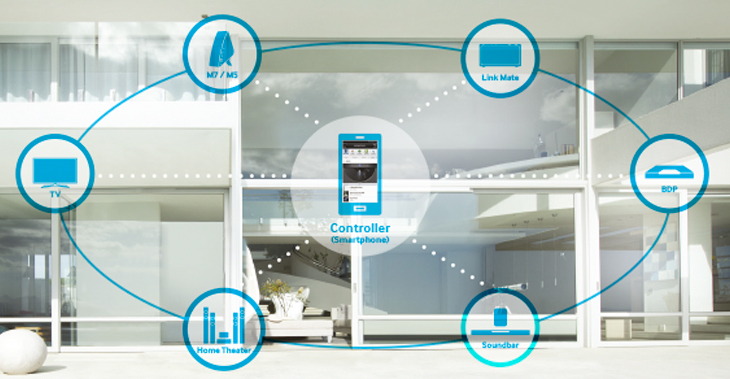 Look out for the Multiroom Wireless Audio logo on compatible Samsung products.

*Multiroom Link/Multichannel is available or coming soon on 2014 Samsung Smart TVs. *App logo and design, UI design may vary by region. View Samsung Multiroom range