Curved UHD
The Samsung UHD Curved TV is more than a beautiful sculptural shape. It surrounds you to deliver an image with a realistic presence that flat screens just can't match. The curve creates a more natural viewing experience from every angle, immersing you in the action wherever you sit and ensuring everyone has the best seat in the house.

Change the way you watch TV forever
A breakthrough in TV viewing – the Samsung Curved UHD HU8500 is subtly shaped to deliver UHD viewing at it's very best. Experience a greater sense of depth, wider viewing angles, clearer images with pure and more accurate colour than you've never seen before. Surround your senses with the Samsung Curved UHD TV today.

Deeper
Lose yourself completely in the depth of the drama as the Samsung Curved screen draws you in and surrounds you completely, delighting every sense. By analysing different areas of the image, Samsung's Auto Depth Enhancer technology applies differing levels of contrast enhancements to each area to deliver a superior sense of depth never seen before – making you feel like you're part of the drama.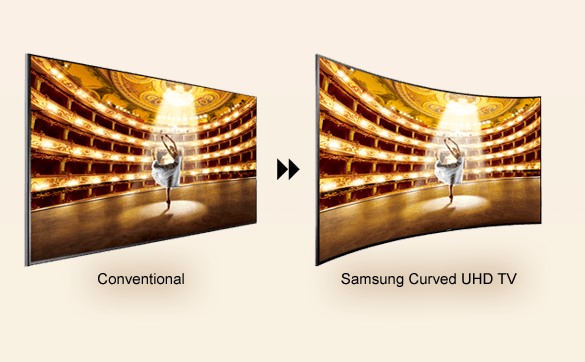 Wider
Every seat is the perfect seat when you're watching your favourite shows or content on the Samsung Curved UHD screen. Designed with a 4.2m radius curvature optimized for the average viewing distance¹ of most living rooms, it also offers a wider field of view by shortening the distance between you and the screen's corners and hence creating more natural viewing angles.
Clearer
Renowned for award winning picture quality the Curved UHD TV does not disappoint, and provides the highest levels of contrast and minimal external light reflection compared to flat screens. Combine this with Samsung's Panel, Processor and Backlighting technologies and the optimal Curved form factor, and the result is staggering and needs to be seen to be believed – the clearest image with most accurate and natural colour you'll ever experience.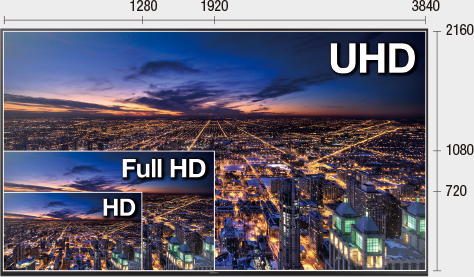 Ultra High Definition
With 4 times more detail than Full HD, Samsung's unique UHD experience gets you closer to the action than ever before.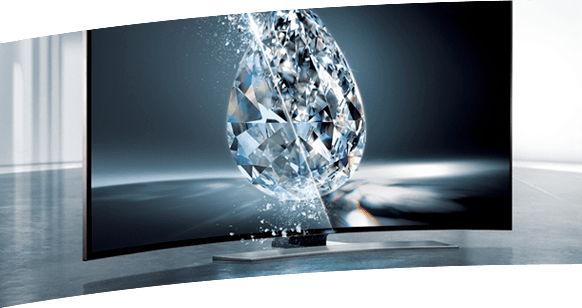 4 step UHD upscaling
You can enjoy UHD today thanks to Samsung's innovative 4 step UHD upscaling technology. This image processing technique converts lower resolution content such as TV and Blu-ray discs to stunningly sharper images, so you can enjoy your favourite TV shows and movies in more detail and clarity than ever.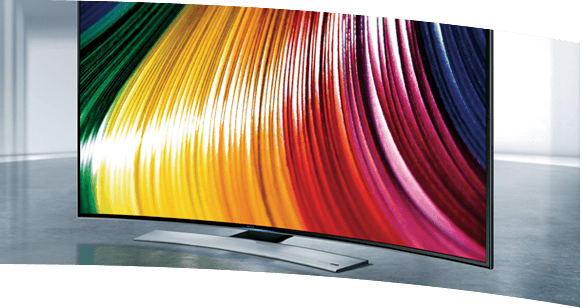 PurColour
Experience the purest colour reproduction with PurColour technology from Samsung. Producing more accurate, natural colours, your new Samsung curved TV will take home viewing to a new level.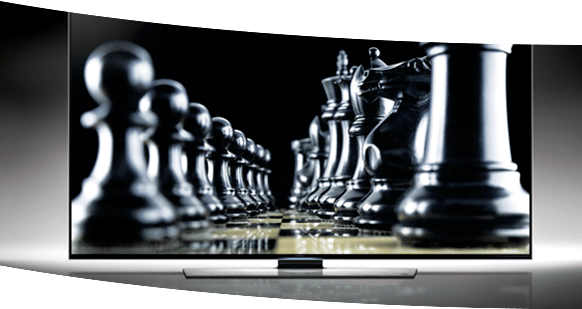 UHD Dimming
Samsung's UHD Dimming technology precisely adjusts colour, contrast and detail in every image while Precision Black backlight dimming technology produces deeper blacks and purer whites for the ultimate in picture clarity and contrast.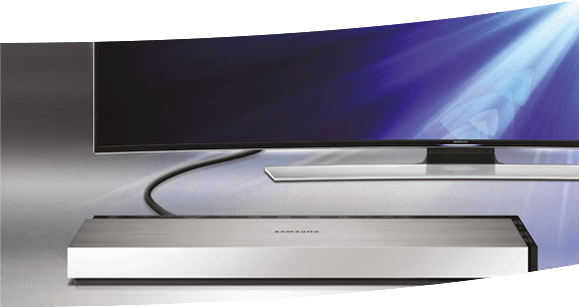 Future Ready
The unique Samsung UHD Smart Evolution kit re-engineers your TV without having to replace it. Keep up to date with the latest performance technology, content and features. The U8500 is compatible with all current UHD connected sources and can be upgraded to be compatible with future UHD standards as well.
Samsung Smart TVs
Samsung Smart TVs give you your choice of content from the internet. Just turn on and see the Smart Hub with five panels, each with a different type of content from TV programmes and movies, photo and video, social media and apps. Enjoy a shortlist of recommendations with the On TV and never miss your favourite shows with all the catch-up TV services ready to enjoy.

Multi-Link screen
Samsung's Multi-Link Screen brings a broader level of multi-tasking to your viewing experience. Driven by a Quad Core Processor it provides the ability to view multiple screens at once. It splits the screen into live TV and a pre-populated web browsing experience to find out more about the programme you're watching. Alternatively, you can even watch live TV while exploring your favourite apps.
Smart Hub
5 easy-to-navigate panels for the ultimate Smart TV experience.

GAMES

Enjoy a wide variety of fun games instantly on the largest screen in your home.

Apps

Enjoy the best range of catch-up services on any Smart TV.

On TV

6 of the best TV programmes on now – intelligently recommended.

multimedia

Share your videos, music and photos. Access social media.

Movies & TV shows

Video on Demand – big films, box sets, intelligently recommended.

Future Ready
The HU8500 is Future Ready. Unique to Samsung, the UHD Smart Evolution Kit² completely reengineers your TV without having to replace it. Renew your TV to the latest technology in terms of performance, content and features ensuring your TV remains cutting edge. The HU8500 is compatible with all current UHD connected sources and can be upgraded to be compatible with future UHD standards as well. * UHD Evo kit for new 2014 (HU) range models will be available to purchase Spring 2015.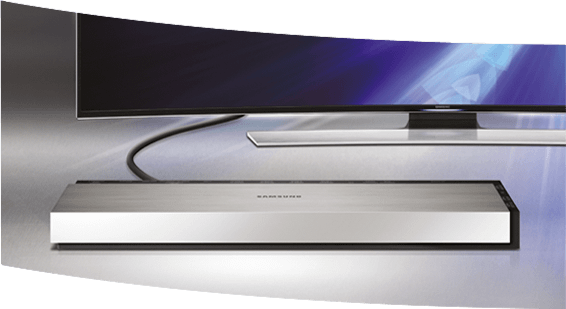 Games Panel
The exciting new Games Panel lets you and your family enjoy a wide variety of fun games instantly on the largest screen in your home, without the need for any additional hardware. It couldn't be any easier; simply download the game you want to play from the panel and choose your method of control – the Samsung Smart remote, your compatible Smartphone or gaming controller.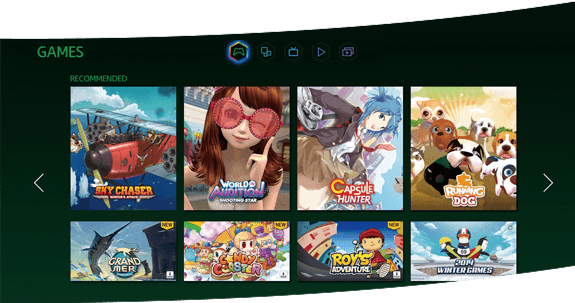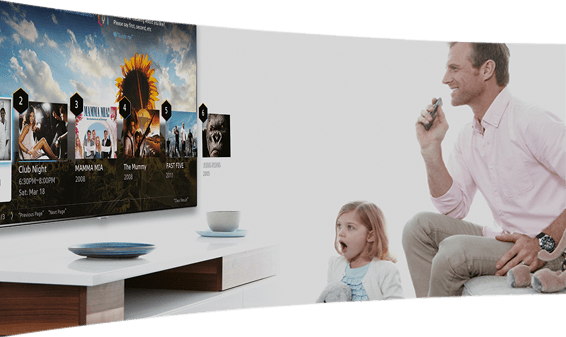 Smart Interaction
Smart Interaction lets you interact with your TV in a whole new way, through clever Voice and Motion control. Simply talk to your TV to control it or, using everyday language, just ask it to find you something to watch for an amazing, personalised TV experience. Motion control lets you simply take charge of your TV with a single finger gesture. You can change channels and the volume level with ease, swipe though the 5 panel Smart Hub and grab and select the content you want just like you would on any Smart mobile device.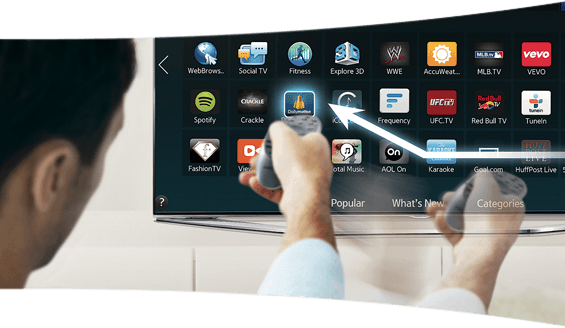 Samsung Smart Control
The new Samsung Smart Control combines a premium metallic ergonomic design with motion recognition, a touch pad and a new button console to provide you with simpler, more accurate content selection and ultra responsive control. When navigating the Samsung Smart Hub panels or accessing content listings spanning multiple pages, you can use the remote's touchpad to literally flip from page to page and select the content you want using the four directional buttons. Intuitive motion recognition makes navigating and selecting content a breeze – simply point and select.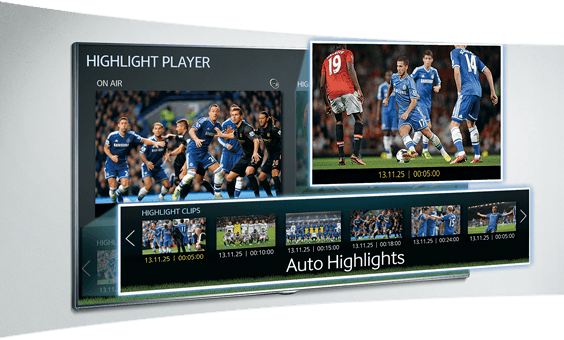 Football Mode
Feel like you're actually in the stadium cheering on your favourite team with Samsung's Football Mode*. At the press of a button it optimises picture and sound settings for a better football viewing experience. With the Auto Highlights feature, your TV can automatically select and save important moments of the big match on your connected hard drive (not included) so that you can watch them again and again at your leisure. * Features may vary by region and depending on TV model specifications. Auto Highlights only available on TVs with PVR (Personal Video Recorder) functions. External HDD drive (not included) is required to activate Auto Highlights.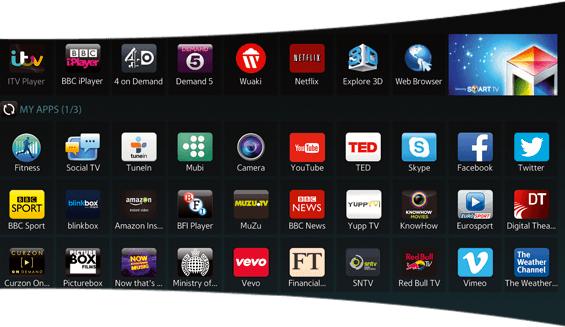 Catch-up services
Enjoy the best range of catch-up services on any Smart TV, including ITV Player (exclusive to Samsung), BBC iPlayer, 4oD, Demand 5, BBC Sports and BBC News, ensuring you'll never miss your favourite drama, comedy, documentary, sporting event or radio programme again.
Samsung TV Accessories
Enhance your viewing pleasure with Samsung accessories. 3D glasses, cables, cameras, keyboards, all with Samsung quality built-in.
Samsung 3D TVs
Experience the new dimension of multi dimensional entertainment with immersive 3D TV from Samsung. With 3D, Blu-ray movies, TV services and games all come to life in your living room. Samsung's Active 3D ensures distortion-free viewing from every angle, with stunning depth and vivid colours, and enhances everyday 2D content too, while Samsung's Active 3D glasses ensure comfort as well as clarity.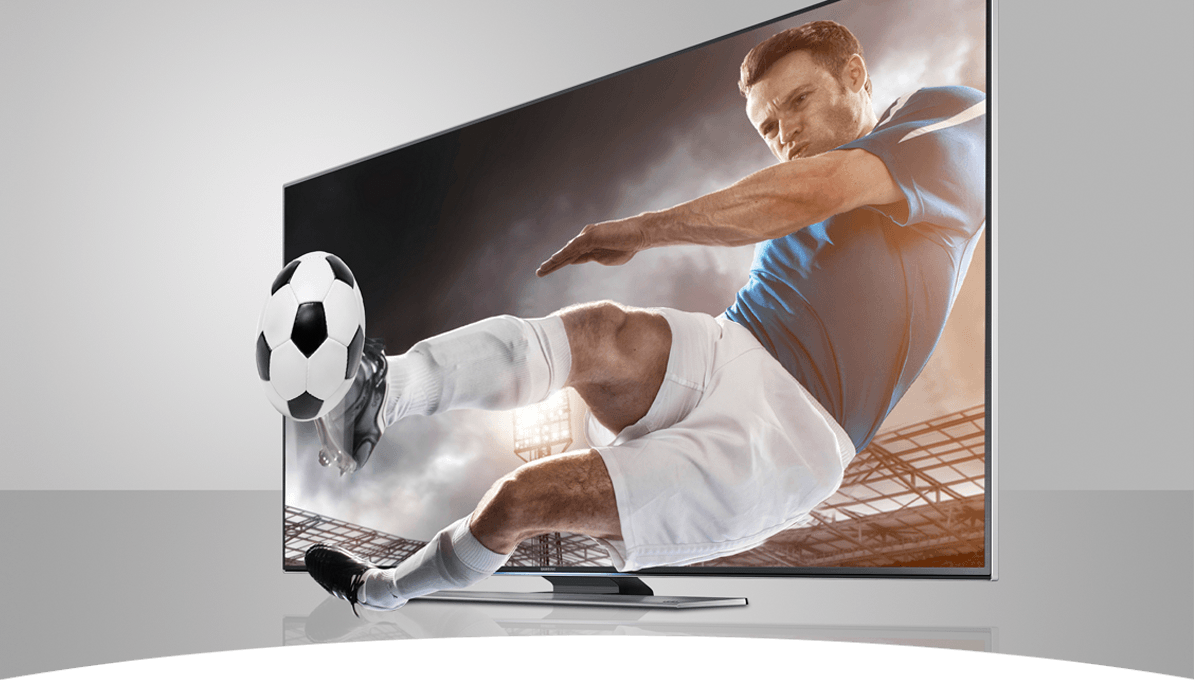 Active 3D
TVs
Samsung Active Full HD 3D brings your TV to life – get closer to the action, immerse yourself in the drama – from every angle the Samsung 3D experience is the same, without compromising on superior 2D High Definition picture quality. Lightweight 3D glasses enable you to experience outstanding picture quality, greater depth and vibrant colours and enjoy the full 3D experience.

Samsung Home Entertainment
There's so much for all the senses with Samsung. Cutting edge design and Samsung quality take TV and audio entertainment to a new level.
View Samsung Home Entertainment