Sony Vaio Laptops

Why VAIO?
From carbon fibre to aluminium, VAIO's are built to last with a unique understated style.
VAIO is designed to last
With prestigious materials, sophisticated engineering techniques and a gruelling test programme, every VAIO is built for strength and performance. Eco-friendly too with maximum use of recyclable materials.
VAIO makes everything more comfortable
Work for longer without eye strain on the highest quality screens3 and type smoothly without errors using comfortable isolation keyboards.
VAIO connects easily with your world
Excellent WiFi reception and essential interfaces allow you to connect to networks and a wide range of other Sony devices. Some models even have 3G or LTE for when you are out of WiFi range.1/2
VAIO embraces Touch
It's the new way of interacting with your media. Enjoy smoother, more intuitive computing using touchscreen in a variety of innovative designs.1
VAIO includes ready-to-go software and services
From the moment you open the box, VAIO is ready to go with unique software solutions such as PlayMemories Home and exclusive partner software for more efficiency and security.1

Windows
A great Windows experience no matter the device. From tablets and convertibles, to laptops and desktops. Choose Windows 8 Pro for new levels of productivity, security, and mobility without sacrificing performance or choice.

View the VAIO Series
1. Available on selected models only
2. Available in selected countries only
3. Within the same price range and system configuration
© 2012 Sony VAIO & Mobile of Europe. All rights reserved. Reproduction in whole or in part without written permission is prohibited. Sony, VAIO, MOTION-EYE and Memory Stick are trademarks of Sony. Intel and Core are trademarks of Intel Corporation. Microsoft and 8 are trademarks of Microsoft Corporation. Bluetooth is a trademark of Bluetooth SIG, Inc. All other trademarks are trademarks of their respective owners.
VAIO Touch range
VAIO Non-Touch range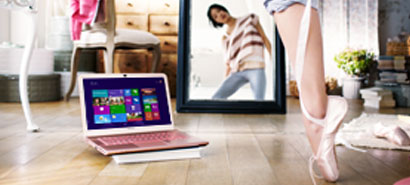 VAIO E Series – The most popular VAIO
The E series is available in a range of screen sizes, colours and performance options so you can chose the perfect one for you.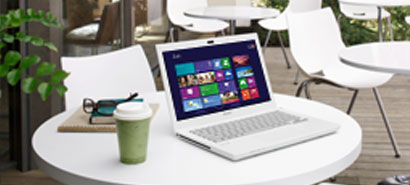 VAIO S Series – The most powerful VAIO
The S Series is available in two screen sizes and is fully powered for use at home, in the office or on the move.