ROKU
3 Media Streamer
Product code: 068459
Product features
Over 450 channels of entertainment
Catch up TV with BBC iPlayer & movies with NOW TV
1080p HD video streaming
WiFi & Ethernet connections
Services brought to you by
Product features
Over 450 channels of entertainment
Catch up TV with BBC iPlayer & movies with NOW TV
1080p HD video streaming
WiFi & Ethernet connections
Services brought to you by
Product information
Open your home to the massive and varied world of online entertainment and experience thousands of channels, programmes, games and more with the Roku 3 Media Streamer.

Online content on your TV

Helping to revolutionise the way you watch TV, you can enjoy  Full HD content on your television on demand. With no PC needed, you simply need a WiFi or Ethernet connection and a HDTV and you'll be streaming quality content in minutes.

Setting up the Roku 3 is easy - simply register it online using via a PC or smartphone, then plug it in to your TV and once connected to an internet connected network you'll be able to start streaming.

Quality content

With over 450 channels to choose from, you'll be spoilt for choice. Letting you watch shows from such sites as BBC iPlayer, Netflix, Demand 5 and Crackle, you'll be able to catch up on hit TV shows, big screen blockbusters and cult classics - all from the comfort of your sofa.

Do it all

Not just for TV and movies, you can also use the Roku 3 to access a wide variety of streaming content – listen to music, browse photos and videos, update Facebook and even catch up with the latest in international sport and news. If your team is playing in the big match, you can now purchase a Sky Sports Pay as You Go pass and enjoy 24 hours of sport live.

Roku your phone

Use the free Roku app to convert your smartphone into an interactive remote control. Browse through channels, start a show or even replay your favourite movie moments - your phone can give you complete control.

You can also use the app to display photos, songs and videos from your phone onto the TV. Show friends and family your favourite snaps with ease and bring your pictures to the big screen.  (Video sharing available on iOS and selected Android phones.)

Get gaming

When you want to get involved in the action, you can load up games and get playing thanks to the motion sensing enhanced remote control.  Enjoy the ever popular Angry Birds game series and start flinging feathered avians across the screen with a simple flick of the wrist.

If you want to watch some late night TV without disturbing the rest of the house, simply plug the included headphones into the remote control and enjoy a private audio performance, letting you crank up the sound without waking up the neighbours.

Small size, massive content

Small, yet perfectly formed, the Roku 3 is small enough to fit in the palm of your hand whilst opening the door to the immense world of online content.

Upgrade your viewing habits and connected your household to a endless supply of top quality entertainment with the Roku 3 Media Streamer.
Specification
Technical specifications for ROKU 3 Media Streamer
OVERVIEW

| | |
| --- | --- |
| Type | Media streamer |
| Number of channels | Over 1400 channels |
| Streaming quality | Full HD 1080p |
FEATURES
Sound type
Dolby Digital Plus 7.1 surround sound
Subtitles
No
TV standards
Compatible with HDTVs
USB file playback
- MP4
- MKV
- AAC
- MP3
- JPG
- PNG
Other features
Remote with headphone jack
SMART TV
Smart TV services
- BBC iPlayer
- NOW TV
- Netflix
- Crackle
- Roku Feed
- Games
Internet browsing
No
App available
Yes
Remote control
Yes - with motion control
CONNECTIVITY
WiFi
Built-in WiFi - IEEE802.11a/b/g/n 2x2 dual-band
Ethernet
Yes
Encryption
- WEP
- WPA
- WPA2
Video connections
- HDMI x 1
- USB 2.0 x 1
DLNA compatible
Yes
GENERAL
Power consumption
- Less than 3.5 W
Colour
Black & purple
Accessories included
- Remote control
- AA batteries x 2
- Getting Started Guide
- In-ear headphones
- Power adapter
Dimensions
25 x 89 x 89 mm (H x W x D)
Weight
0.17 kg
Manufacturer's guarantee
2 years
Bundles
Build your own bundle
You could save money by choosing extra items with your purchase - look out for great savings on some products when added as part of the bundle
You can choose some items more than once - just click the "add" button twice
Select up to 5 items from the tabs below
ITEM
2
ITEM
3
ITEM
4
ITEM
5
ITEM
6
3 Media Streamer
Powerline
Build your own bundle -
Choose up to 5 item(s) from this category
.

TP-LINK TL-PA411KIT AV500 500 Mbps Powerline Adapter Starter Kit
500 Mbps transmission – 100 Mbps Ethernet Port
2-adapter kit
Single port
Home delivery
Collect in store
TP-LINK TL-PA411KIT AV500 500 Mbps Powerline Adapter Starter Kit
Close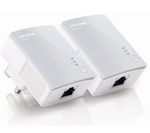 500 Mbps transmission – 100 Mbps Ethernet Port
2-adapter kit
Single port
Transform your home's power system into a high-speed broadband network with the TP Link TL-PA411KIT AV500  Powerline Adapter Starter Kit – power sockets instantly become powerful LAN ports!

Simple concept and operation for powerful results

With a great Plug and Play design, there's no configuration process needed – all you need do is plug the adapters into your power...
TP-LINK TL-WPA4220KIT WiFi Powerline Adapter Kit - Twin Pack
500 Mbps transmission – 100 Mbps Ethernet Port
2-adapter kit
2-port
Normal price £39.99
When added to this bundle
Save
Home delivery
Collect in store
TP-LINK TL-WPA4220KIT WiFi Powerline Adapter Kit - Twin Pack
Close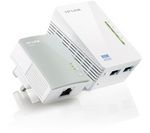 500 Mbps transmission – 100 Mbps Ethernet Port
2-adapter kit
2-port
The 500 Mbps TP-LINK TL-WPA4220KIT WiFi Powerline Adapter Kit enables you to extend your home internet connection across your rooms using your existing electrical circuitry.

Extended wireless range with one touch

The TL-WPA422-0 is equipped with a Wi-Fi Clone Button which enables Super Range Extension, automatically copying the SSID and Password of your router. This helps...
Delivery, Order & Collect and Services
Delivering your online order
Get this delivered on a day to suit youAt PCWorld we deliver 7 days a week. Choose from:Free delivery: within 5 working days and available on all orders. No minimum spend required.Next day delivery (from £3.95): on orders placed before 7pm Monday-Friday, or 4pm on weekends. Tell us your mobile number and on the day of the delivery we'll text you to say what time your order will be with you.Same day delivery (£9.99): exclusively for selected addresses in Greater London. Simply place your order before 10am Monday-Friday and receive it that evening between 6:30pm and 10:30pm.
Order online and collect in store
Did you know you can order online and collect in store for free?

It's simple - just select 'Collect in store' from the basket page, type in your town or postcode and we will show stock availability for your nearest stores.

There are two Order Online and Collect in Store services:

Reserve and Collect

If your item is in stock locally, you can reserve it online for free, to collect from store minutes later. So you'll get it even quicker than we can bring it to you, and with no delivery charges. Once reserved, your item's held till closing time the next day, to be paid for when you collect.

Pay and Collect

If your local store doesn't have this product in stock, you can pay online and then have it delivered to store for collection.

Your item will be sent from our warehouse to the store for free and will be available to collect from 5pm on your chosen day of delivery, including next day. Your product will be available to collect for 28 days after delivery.

What is Instant Replacement?
Instant Replacement is available on most products under £150 and provides 3 years protection if your product develops a fault or breaks down, even as the result of a mishap.
Just return it to one of our stores with your receipt and we'll give you a new one on the spot!
Care Plan
Instant Replacement
If it breaks we'll replace it
A new one on the spot
Breakdown through mishaps
Protection for 3 years
No limit on replacements
Worldwide protection
Learn more about the benefits of our Instant Replacement.
You can add our Instant Replacement service to your chosen products on your basket confirmation page when you are ready to checkout, or for Collect in store please ask when you collect your item.
Compare prices of extended warranties for electrical goods at www.compareextendedwarranties.co.uk from any internet enabled mobile device, smartphone, PC or laptop.