Multi-Room Audio
Multi-room audio truly lets you fill your home with music and sound – your music follows you around the house for a new kind of listening experience.
It's now possible for you to have a unified, multi-part system which can play your favourite radio station in the kitchen, offer a cinema experience in the living room and stream songs from your digital music libraries, streaming services and digital radios in any other room of the house.
You can begin your multi-room experience with one speaker and then continue to add more to create a multi-faceted music system with significant benefits.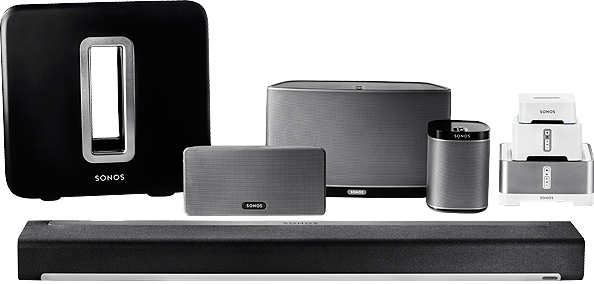 Easy to set up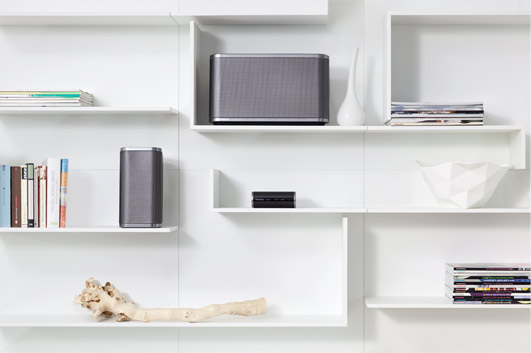 A multi-room audio system might sound complex, but they're actually very easy to set up and operate.
Most multi-room systems work by first plugging your speaker or speakers into a power outlet and then employing your home WiFi network to send and receive audio from your phone, tablet, computer or streaming source to play back over the speaker(s).
When you're comparing multi-room systems, check how the speakers or system actually connect up. Systems from some brands may need a central hub to enable multi-room playback, while others can be wirelessly linked using your home network. Many speakers from multi-room systems can be used on their own as well.
Whichever system you decide to buy, just follow the simple instructions in the box and you'll be set up in very little time.
Multi-Room Apps
Whichever system you decide to buy, just follow the simple instructions in the box and you'll be set up in very little time.
You can download these apps from the Google Play store or Apple's app store and, depending on the system you're using, they enable you to do a range of things with your multi-room speaker system.
Simply choose a room and the song(s) you want to hear from any number of different sources. You can control music in one room or different rooms, play the same tune in all or different rooms, and more –give each family member the sounds they want to hear, or amaze friends by easily sharing favourite tunes at parties.
With certain wireless speaker systems you even have the choice of creating a surround sound system to use with your TV. You're in control when you use multi-room audio.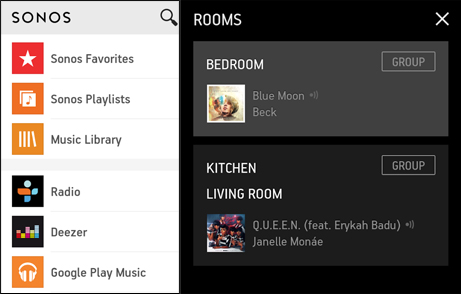 Audio around the house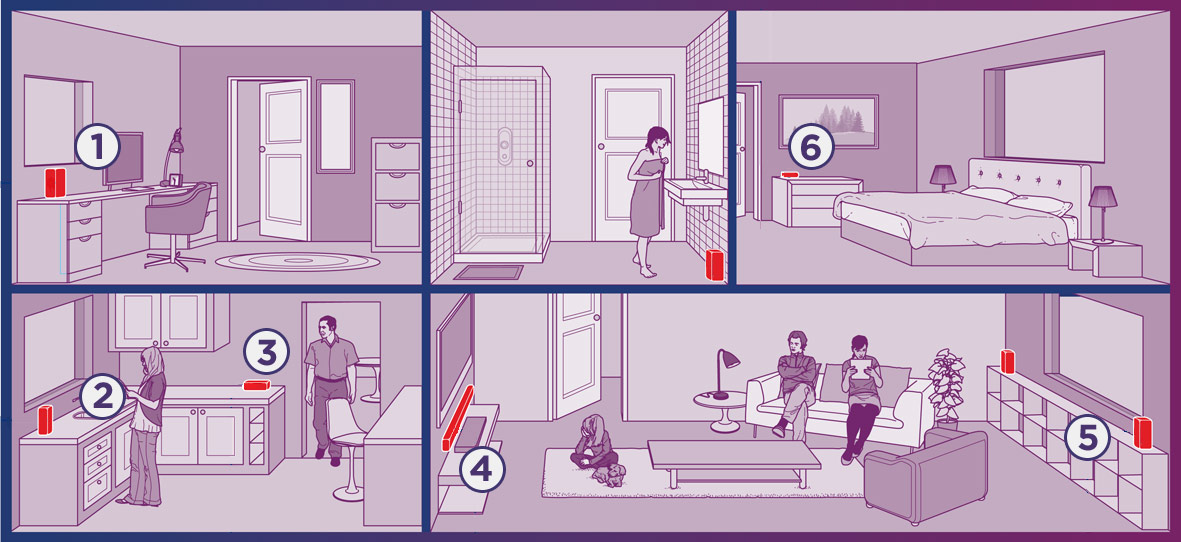 1 Getting started is really easy
All you need is one wireless speaker, to stream music from your smart device, your computer or online services. Installation is simple: you just plug the speaker in, and the simple set-up is done in seconds with smartphone or tablet apps. Then you just plug in extra speakers wherever you need them, push a button and they will find your network and be ready to play.
2 Add on an extra room
Wireless connection makes adding extra speakers to create more 'zones' in other rooms a breeze: plug and play set-up means new speakers are detected by the system, and appear on the control app. Now any room within range of the wireless network and with a mains socket can have its own sound system, whether that is the dining room, the study or even the kitchen: most systems can accommodate far more speakers than most of us will ever have rooms!
3 Double up speakers for a bigger sound
As well as placing a single speaker in a room to bring your favourite music there, you can double up the speakers to create a stereo sound, or simply add an extra speaker to help fill really large spaces with powerful sound. The control apps let you choose how speakers are paired up, and even which zones work together to play the same music, all with a couple of taps or swipes.
4 Add in your TV sound, too
As well as playing music from a range of Internet and network services, the latest wireless multi-room systems also have the ability to connect audio sources used in the same room, such as a TV. Some even have dedicated TV soundbars, enabling you to improve the sound of your TV when you want, but also use the sound bar to deliver all that music when you are not watching TV.
5 Go wireless surround
With a wireless TV soundbar in your system, you will get an excellent sound experience from your favourite shows. But you can also add extra wireless speakers, and even a wireless subwoofer, to create a full 5.1-channel surround sound system – and all without any need for cables around the room.
6 The same everywhere – or whatever you want
Every zone within a system can access different music, so you could be listening to Spotify in the study while the rest of the family is enjoying Radio 1 in the kitchen and their own music from the home computer in a bedroom. It is all controlled by apps, and individual rooms can also access music from smartphones and tablets, to allow even more flexibility of choice. Or, if you are having friends round, you can switch the whole system into party mode, so every speaker in every room is playing the same music.
Shopping with PC World
Unbeatable services brought to you by