Why Us?
It's not always necessary to replace your computer when technology moves on. We provide a number of upgrade services to improve the speed and performance of your PC or Mac computer - from upgrading your operating system to installing a home network, new hardware or software.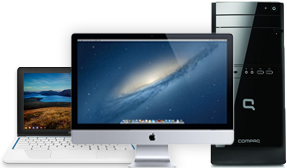 Services
SOFTWARE INSTALL
We'll install your software on your existing computer and configure it to download the latest updates.
Choose your software
We'll install it
Just bring your PC in
Advice on upgrades
£35
Find the nearest Service bar
HARDWARE INSTALL
We'll install your new piece of hardware anything from memory and graphics cards to a printer or a broadband dongle. Anything more complex, like a motherboard or CPU, we'll send it to our specialist lab.
Upgrade your computer
Improve performance and functionality
Mac and Windows covered
Secure recycling of old parts
from £35
Find the nearest Service bar
NETWORK SET UP & SUPPORT
We'll guide you over the phone or come to your home to help your set up a new network - or resolve any issues if it's not working. Our advanced service includes securely setting up and configuring your network for up to five devices, such as your tablet, Smart TV and computer.
Set up your home network or single device
Connect your games console to broadband
Share files, printers and media files
Secure your network for privacy
from £25
Find the nearest Service bar
KNOWLEDGE BANK
Lean on our experts for guides, tutorials, hints, tips and much more.
Find out more
Did you know that help is at hand in other ways too? An absolute goldmine of information, the Knowledge Bank has over a thousand articles on everything to do with your products and the latest technology.