NVIDIA GeForce
Laptop GRAPHICS

Whether you are a no-holds-barred gamer, a video enthusiast, or a digital photography addict, there is an NVIDIA® GeForce® graphics processor that fits your lifestyle.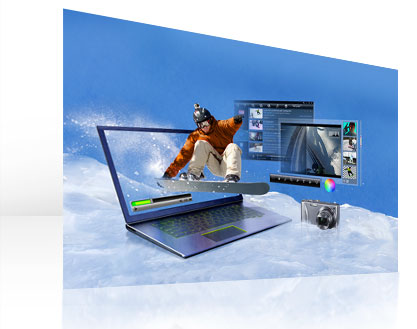 Geforce
In the modern world everyone's mobile computing experience is more visually intensive than ever before, we all spend more time on YouTube®, watch internet streamed TV as well as share our own media online.
We all have access to digital cameras and love to tweak and edit our photographs before we share them with the rest of the world. This has never been simpler thanks to NVIDIA's GeForce mobile graphics that deliver the fast visual performance required to make changes effortlessly. Surf the web in style, enjoy flawless video play back and play your favourite games with stunning pictures.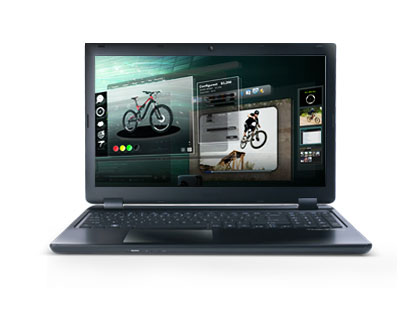 Geforce GT
Step up a gear with supercharged GeForce GT mobile graphics giving you the power and performance to re-master HD video and touch up your high-resolution photos with stunning clarity on your laptop.
Explore and enjoy the most visually rich and interactive websites the internet has to offer with GPU accelerated browsers like Google Chrome and Microsoft Internet Explorer. Harness the power of NVIDIA GeForce GT graphics to make pages load faster and video stream more smoothly, without the wait.
Step into the world of mobile gaming and take advantage of DirectX 11 technology for a better experience when playing current, popular games. Do everything you love to do on your laptop with GeForce GT mobile graphics.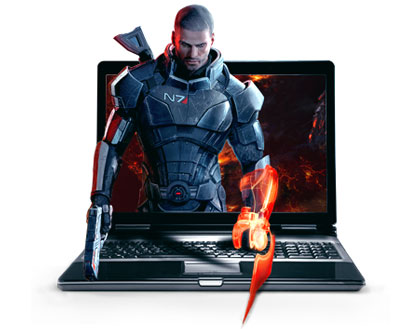 Geforce GTX
If you are a hardcore gamer, NVIDIA has the ultimate GPU as GeForce GTX delivers the intense performance and features for users who demand the very best.
The NVIDIA GeForce GTX series laptop graphics give your games a glistening dose of premium performance and combine raw performance with great battery life thanks to NVIDIA Optimus technology.

NVIDIA OPTIMUS TECHNOLOGY
NVIDIA® Optimus™ technology intelligently optimises your laptop as it provides the outstanding graphics performance you require, when you need it, whilst extending battery life for longer enjoyment.
Optimus technology is completely automatic allowing you to experience longer battery life and amazing visuals without having to manually change settings.
Behind the scenes and with no interference to what you're doing, Optimus seamlessly figures out how to optimise your laptop computing experience for the best.
Learn how Optimus automatically manages battery life and performance to provide you with the best laptop experience whether you're watching HD movies, surfing the web, or playing top 3D games.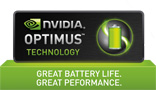 THE BEST LAPTOP EXPERIENCE. GREAT BATTERY LIFE AND GREAT PERFORMANCE. IT'S THAT SIMPLE.