Optimus technology is completely automatic allowing you to experience longer battery life and amazing visuals without having to manually change settings.

Behind the scenes and with no interference to what you're doing, Optimus seamlessly figures out how to optimise your laptop computing experience for the best.
Learn how Optimus automatically manages battery life and performance to provide you with the best laptop experience whether you're watching HD movies, surfing the web, or playing top 3D games.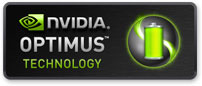 THE BEST LAPTOP EXPERIENCE. GREAT BATTERY LIFE AND GREAT PERFORMANCE. IT'S THAT SIMPLE.
Watch the video to learn how Optimus technology works