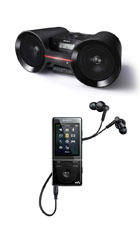 We want you to enjoy using your new portable audio for years to come. Your manufacturer's product guarantee provides cover for mechanical and electrical breakdown but will be limited to a year and may not cover parts or breakdown through mishap.
One of the best ways of protecting your portable audio now and in the future is with a Repair & Support Plan; providing peace of mind should the worst ever happen.
Alternatively, if your portable audio costs less than £150 you can purchase Instant Replacement. To find out more click here.
Key benefits:
Protection against breakdown or mishap
We'll fix or replace with new
All parts and labour costs covered
Worldwide protection
BENEFITS:

Protection against breakdown
Whether it's frozen or skipping a beat, if your audio product breaks, we'll fix it.
Protection against mishap
We don't expect you to wrap your portable audio in cotton wool. If your product suffers a mishap, we'll fix it.
Fast fix
We're so confident we can repair your product quickly we've made a promise – if we fail to fix it within 7 days you can ask for a replacement.*
You won't pay a penny more
No expensive charges for parts, labour or call out – we'll pay for them all. And if no fault is found you'll not be charged.
We'll fix or replace with new
If we are unable to repair your product, we'll give you a brand new one.
Unlimited repairs
There's no limit to the amount of repairs you can have, we'll always be there to help.
Request a replacement
If your product goes wrong again after the 3rd repair, you can request a replacement.
24/7 freephone help & advice
From syncing issues to cable dilemmas, our team of experts at our UK based Contact Centre are on hand to take your calls, all day, every day.
Worldwide protection
If your portable audio breaks down whilst you're abroad, don't worry we can help.
*7 day repair promise starts from when we collect your item or when you drop your item to one of our stores.
View the Repair & Support plan price guides