Why Us?
To save you the hassle of having to dispose of your TV yourself, we can come and take it away for recycling when we deliver. We'll also take away all the packaging from your new product. This applies to TVs over 39".
You can also bring any unwanted electrical item into your nearest PC World or Currys for free recycling, even if you haven't bought it from us.
From £15 At Home
When we deliver to your home, we'll take your old TV away for recycling, plus any packaging.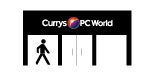 In Store
Bring any electrical product into a PC World or Currys and we'll take it off your hands
Please note: If your product is being delivered directly by the manufacturer, recycling is available for replacement products only; i.e. an old TV will be taken away if you're having a new TV delivered.
What we'd ask you to do
TVs over 39" delivered by Knowhow - read more