Sagemcom Digital TV Recorders for Freeview
Smart and simple, hooking up a Sagemcom Freeview set-top box to your HD ready TV will take your home entertainment to the next level.
Make your TV Smart by connecting the Sagemcom recorder to the internet. With access to Catch Up TV via BBC iPlayer you can choose from a catalogue of great BBC shows and watch them whenever you choose.
If you have your own digital media library, connect the Sagemcom Freeview box to your home network via DLNA and stream media from your PC, laptop or smartphone - the options are endless. With a built-in media player you can even store, manage and play media such as music and videos straight from the Freeview box.
Quick to set up and easy to use, Sagemcom Freeview+ HD digital TV recorders combine Smart TV features with HD quality and multimedia capabilities.
Freeview+ HD
HD recording made easy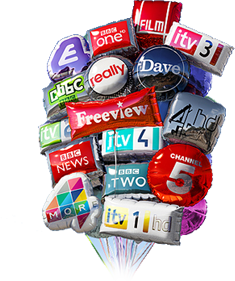 HD TV really makes a difference, with truer picture quality and sparkling sound bringing your entertainment to life. Freeview+ HD provides over 50 TV channels including 4 top HD channels, and 24 radio stations with no monthly fee or subscriptions.
With a Sagemcom Freeview recorder you can pause, rewind and record live TV – all at the touch of a button. With Series Link you can record every episode of your favourite TV series and with twin tuners you can record one channel whilst watching another. Simple and convenient interactive TV is now at your disposal.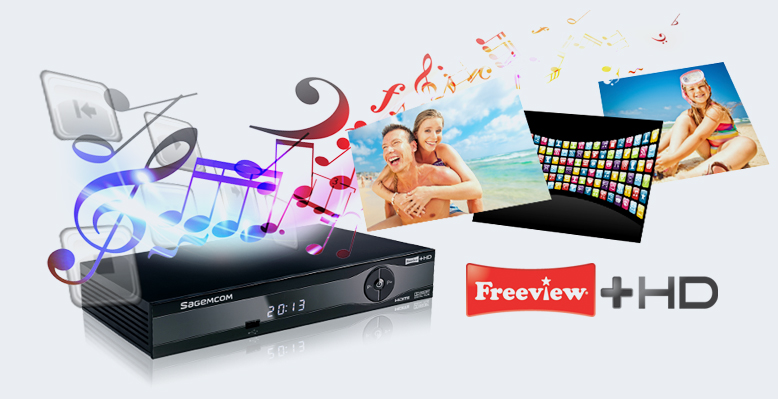 What is Freeview HD?
Freeview HD is a subscription-free service which provides you with all the available HD channels in your area via your TV aerial*.
What do I need to enjoy Freeview HD channels?
To make the most of this free service all you need is an HD ready TV and a set-top box.
If I have a Freeview box can I watch HD channels?
With a Freeview box you can enjoy all SD channels free of charge. To watch in high definition you need a Freeview HD set-top box and an HD ready TV.
* Check your HD coverage before purchasing a Freeview HD box


Catch Up TV
Enjoy interactive services via the BBC Red Button and, if you have a broadband connection, Catch Up TV via BBC iPlayer. The smart search function makes it easy to find and select what you want to watch.

Get connected
Connect to DLNA compatible devices like your PC, laptop, camera and smartphone and play media through your TV. You can also play and upload from USB – bringing your media devices together.
Subscription-free
With an HD ready TV you can enjoy free access to a world of high definition Smart TV entertainment. With no contract or fees, watch what you want in your own time.

Media player
Use the built-in media player to store, manage and play videos, photos and music. Make the Freeview recorder your home entertainment hub.

Recording made easy
With one touch recording, Series Link and the ability to watch one channel whilst recording another, fit TV viewing into your lifestyle. Pause, rewind and record live TV and build a personal library of your favourite shows.

More choice
Use the smart and simple guides and menus to plan your viewing. A simple preview screen shows what's on each channel as you browse and an 8-day programme guide lets you organise your entertainment.